March Madness has tipped off with stunning upsets and unpredictable wins, but in the world of Wisconsin politics things are moving along as expected, especially in regards to the state budget. Public hearings for the governor's proposed budget began this week, which you can read about below, and a new proposal has emerged from the legislature on how to fund the UW System. While Joint Finance Committee members are busy in the statewide public hearings, other legislators focused on introducing new bills, which you read out about in Bills of Note.
Also not to be missed this week: Charter Schools Week, Walmart Capitol Day, a new series from WisconsinEye, and comments were submitted to the EPA on the most expensive regulatory proposal in U.S. history.
Stay up to date on the state budget process! Check our State Budget Issue Update page and follow us on Twitter.
If you wish to receive additional information about a topic addressed in Tidbits, please do not hesitate to contact a member of the Hamilton Consulting Team.
Bills of Note: Repealing Agency Rules, At-Will Employment, Charter Schools, and the Speed Limit
Assembly Passes Bill to Create Procedures to Repeal Invalid Rules

By a partisan 63-36 vote, the Assembly passed
AB 80
(Ballweg-R) which would establish "expedited" procedures for an agency to repeal a rule that the agency no longer has the authority to promulgate. Such rules can be rendered invalid because of the repeal or amendment of the law that previously authorized its promulgation. The bill as drafted, however, requires the agency to make the determination if a rule is no longer valid.
Bill Eliminates At-will Employment; Requiring Employers Prove Compliance with Seven-Part Termination Test
Democratic legislators
are circulating a bill that would generally prohibit an employer, including the state, from discharging an employee unless the employer meets a seven-part test. One element of the test requires the employer prove by clear and convincing evidence that the employee committed a violation of work rules or performance standards that were uniformly enforced and properly noticed. The bill allows the terminated employee to sue the employer and then requires the employer to prove all seven tests were met.
Bills to Increase Charter School Opportunities See Legislative Action
Bills to increase charter school opportunities in Wisconsin received legislative attention over the past two weeks. The first bill,
Assembly Bill 64
, would allow each technical college district board to authorize independent charter high schools that provide a curriculum focused on occupational education and training or science, technology, engineering, and math (STEM).
Speed Limit
In previous addition of "Bills of Note," we informed you of a bill that would increase the speed limit on freeways and expressways to 70 mph. A
ssembly Bill 27
, introduced by Representative Tittl (R-Manitowoc), passed the State Assembly
76-22,
with Republicans and Democrats on both sides of the vote.
Business Groups Oppose the Most Expensive Regulatory Proposal in U.S. History
At an estimated $1.7 trillion hit to GDP, it's been dubbed the most costly EPA regulation in U.S. history. On March 17, Wisconsin Manufacturers & Commerce (WMC) and other state business groups
voiced their opposition
to EPA's proposed new ozone standard.
LFB Releases Series of Memos on Gov. Walker's Proposed Budget
Read more...
Budget Hearings Begin
The first of four Joint Finance Committee (JFC) public hearings for Governor Walker's proposed state budget for 2015-2017 were held on Wednesday at Brillion High School, located east of Appleton. The hearing began at 10 a.m. and over 200 people registered to testify on a variety of issues.
While much of the public's testimony focused on education for K-12, many supporters of Wisconsin's long term care option, called IRIS (Include, Respect, I Self-Direct) spoke about proposed cuts to the budget.
John Doe Overhaul Bill Passes Senate Committee
A Senate bill to change John Doe proceedings in the state of Wisconsin was recommended for passage by the Senate Committee on Judiciary and Public Safety on a party-line vote and is now available for consideration by the full state Senate.
The bill,
Senate Bill 43
, would significantly change the laws governing John Doe proceedings. Under current law, a John Doe proceeding may be used to investigate any crimes. The bill would limit John Doe investigations to only be used for drug offenses, certain listed felonies, felony murder and racketeering or continuing a criminal enterprise, if the underlying crime being investigated is one of the aforementioned crimes and is a crime listed in the statutory definition of racketeering activating. In addition, any crime committed by an on-duty law enforcement officer, corrections officers, or state probation, parole or extended supervision officer could continue to be investigated by a John Doe proceeding.
Read more...
TIF Bills Get Hearing
In last week's
edition of Bills of Note
, we alerted you to the introduction of the tax increment financing (TIF) bill package that was introduced by Joint Legislative Council.
Three of these bills, Senate Bills 50, 54 and 57 will have a public hearing before the Senate committee on Economic Development and Commerce next week Wednesday, March 25, at 1:30 p.m. in 300 Southeast.
Walmart Capitol Day 2015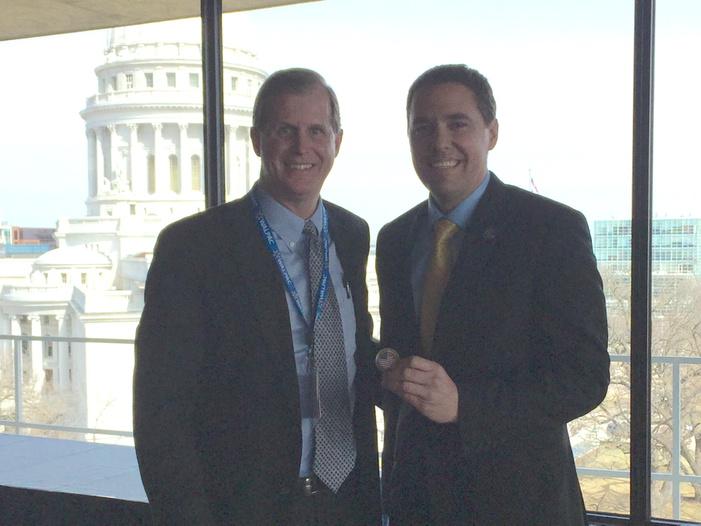 Senator Roger Roth (R) is presented with a Walmart military coin.


Walmart held its annual Capitol Day this week with over 40 store managers, regional managers, market managers and assistants.

Charter Schools Week in Wisconsin
This week Wisconsin celebrated Charter Schools Week with tours, visits from legislators, an informational hearing and presenting Governor Walker with an award for his support of charter schools.
WisconsinEye's Newest Series: WisEye Fish Fry
WisEye Fish Fry
WisconsinEye has started a new series called "WisEye Fish Fry," which features senior producer Steve Walters and Jackie Johnson, a reporter from the Wisconsin Radio Network, interviewing Wisconsin political movers and shakers over the lunch hour on Fridays.
Hamilton Consulting: Your Government Relations Easy Button
The Hamilton Consulting Group Political Tidbits is a free newsletter on Wisconsin political and policy developments. Please forward it to others who may wish to receive this service.
If you require additional information about a topic addressed in Tidbits for your organization's board meeting or trade publication, please do not hesitate to contact a Hamilton Consulting Group lobbyist.
To ensure that Political Tidbits never gets caught in your spam filter, please add publications@hamilton-consulting.com to your address book/contacts list.

If you are receiving these emails via a workplace email account, please advise your IT service desk to do this for you.